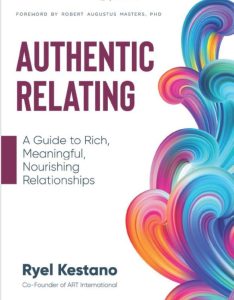 Happy New Year y'all! May your practice bring you deep connections and great joy in this new year.
In this edition of the Newsletter, I review Ryel Kestano's new book, Authentic Relating: A Guide to Rich, Meaningful, Nourishing Relationships. I am also adding a new section called "People I like". 
Newsflashes
Save the date for the Authentic Relating Convergence —

Feb. 24-26, Bastrop State Park (Austin TX)

Previously the "All Texas Retreat". Early bird price $350, I was hoping for less and trying to negotiate for me and y'all with Jonathan Van Matre, let me work on it. I really want to be there.
Jordan Allen is recommending the Netflix film Stutz, a therapy film. I LOVE therapy films. If you are with your family for the holidays and need a break from them, this is a good way to shut them up for a few hours (with consent of course), plus (maybe) educate them and start a conversation! I  also enjoyed Nine Perfect Strangers although a bit corny at times.
What's happening in the community?
ART International is starting the year off with a bang. There are now 6 different flavors of their ground-breaking Level 1 Course (couples, embodiment edition, En Français, auf Deutsch and In Italiano). (I want to take them all!). It appears that their January regular-flavor Level 1's are sold out (yay team!) but do not despair! You can take Level 1's in person (which is more fun IMHO) this year in Koh Phangan Thailand, Hamburg, Lyon France, London U.K.,  Copenhagen Denmark,  Verkelig Losone Switzerland, Bristol U.K., Boulder Colorado,  Seattle Washington,  Los Angeles California,  Encinitas California, Baltimore Maryland,  and Vancouver Canada.
Also, For the entire month of December, when you register for a 2023 The ART of Being Human Level 1 or 2 course* you'll also get to bring a friend, loved one, colleague, or any new acquaintance for free. Make haste!
I continue to be entertained by Jordan Myska Allen (of Circleanywhere fame) newsletter 3 Things Thursday. Upcoming courses include A Relateful New Year's Eve Immersion w/ Jordan Dec 30 – Jan 1, Austin TX, ongoing Level UP (my very favorite high-level Circling training), Coaching Training Next cohort starts February 13th 2023, Lead Flow , Beyond Money: with Philip Watson, and Music of Relating: with Annabeth Novitsky.
Circling Europe is holding Meditation & Circling Online Mini-Immersions on 29th January, 26th February. Check out their website as well for courses including SAS's online and live in Oslo.
Circling Institute is enrolling now for the 2023 Art of Circling cohort. They are also continuing to have Thursday evening open circles.
Zori Tomova's Widening Circles is beginning a new cohort in January. I imagine most of you don't know about Zori, and IMHO you should, if you are an A/R leader. I have been engaged for about a year, and so many of the good things in my life and my current success derive, directly or indirectly, from that. It's a "space-holder" group intended to support people who are already A/R leaders in some capacity, and is relatively affordable as well. It's by invitation-only so review the website and then book a session with Zori if it sounds like a fit.
This month's A/R Community Mastermind Call is Wednesday, Jan. 4, 1pm Central, 2pm Eastern. Free. This is a networking and sharing meeting for all A/R leaders and wannabe's. This session will be led by Jonathan Van Matre and Halle Senger.
Josh Stein from the Awkward Leadership School (great branding!), is running regular "Relational Inquiry for Leaders and Helpers" drop-in event. Two time options: 1) 1st & 3rd Tuesday at 7pm EST;  2) 2nd & 4th Tuesday at 1pm EST. Sliding scale $10-25 CAD. Schedules are subject to change after January.
Anyone else offering programs which you would like me to list? I am sure my ADD brain is missing something important, but if you are not writing to me your events, it's all your fault LOL. 
Ryel Kestano has a landmark new book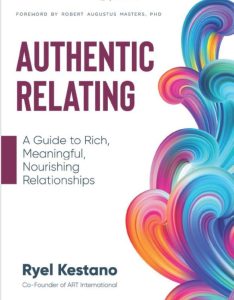 Ryel Kestano (co-founder of ART International) has a new book, Authentic Relating: a Guide to Rich, Meaningful, Nourishing Relationships. It's a good read, and also quite significant for the movement (since there are not that many books about Authentic Relating).
What I love about this book is that Ryel presents the practice, fair-and-square, as a pathway to what Werner Erhard calls "a transformation of the quality of life on this planet". He talks about prisoners he engaged in a 2-day course, which averted actual bloodshed between two gang leaders inside the prison who were about to start a war. He talks about people he met in airplanes who became lifelong friends. He talks about the tragedy of a culture which is fundamentally out of tune with skills of basic human connection, and what is possible through ordinary human interactions on the street. He guides you gently into the practice itself with ideas and perspectives and invites you to try them out.
Well-done, Ryel! Keep up the good work.
People I like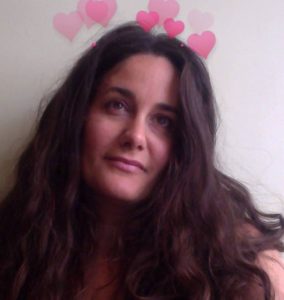 (this will be a new section in the Circling Guide. What I have discovered is that my friends tend to like each other! [duh]. So maybe you will like her too)
I like Shane Kulman, aka Enchantress Shane. Why do I like her? It's good question. I like her copywriting, she has a gift with words, such as "You want to change the world in your kinda way? That means you have to show up, be seen and be heard, and yay for this opportunity!" [damn right]. See her Course on Teachable and Relational Embodied Intimacy. She works 1-1 with men and women, and has groups for women.
Relational Power — status update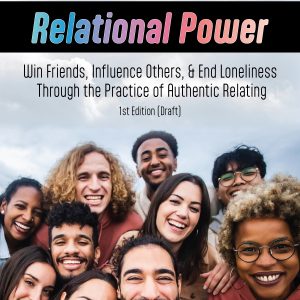 My proposal to crowd-source Relational Power is officially out to the community. The response has been encouraging, as there have been about 80 sales and downloads of Relational Power in December.
But still no (or little) feedback (boo-hoo). If you are among the first 5 people to read, Amazon review, or feedback Relational Power, you get a Gold Star in your report card! I am also willing to send you a print copy (write to me), call your mother to tell her how wonderful you are (and that she should get off your case), whatever you want.
Enjoy this post? Then be audacious and share or like!