Short bio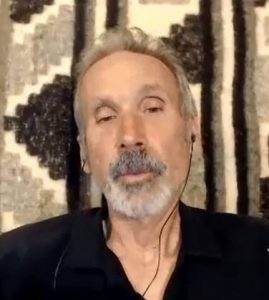 Marco is an author, Authentic Relating leader, intentional community activist, sexual educator, and self-described "love revolutionary". He started Circling in 2016 and found his home there. This occurred after a lifetime of "seeking", of joining in every type of therapy, self-help community, Large Group Awareness Training (LGAT), and New Religious Movement (NRM) he could find and could afford. He calls  this "the 40-year war against myself and against the world, trying to make a buck and get a little love, mostly unsuccessfully".
His latest book, Relational Power, tells that story and more. It is a sequel to the Circling and Authentic Relating Practice Guide (published in 2017) which became the most popular book on the practice of Circling within the Authentic Relating tradition, and is still available here in all formats. He has also written a love and sex manual for men entitled As Lovers Do , and a memoir entitled Broke, Single, Crazy and Old: The Redemption of a Sex and Love Addict.
Read about his latest adventures on his author blog, email him at marco@marcbeneteau.com, or contact through Facebook. Relational Power is currently being crowd-sourced. Join that project here
Long bio (my story, excerpt from the
Circling Guide

)
"The true test of your spiritual success is the happiness of the people around you" – Swami Rudrananda (Rudi)
In 1985, at the age of 25, I found myself after a relationship breakup in a deep and chemically-resistant depression. It was the most painful thing that had ever happened to me, and it completely shocked me. I was at the time, as many men in our culture, entirely cut-off from my feelings and lacking even a rudimentary understanding of emotional communication.
In a bold and naïve move, traits which have followed me my entire life, I dropped out of my engineering program and moved to California, the epicenter of the human potential movement, in order to "find myself". I decided then, in that terrible but ultimately redeeming moment, that the only thing that truly interested me was human relationships, and that if I were to have a life that would be successful in my own eyes, it would need to be principally focused on learning and teaching love – despite feeling that I had begun my life virtually retarded in those skills. This lifestyle decision was confirmed later, after I read Dale Carnegie (in How to Win Friends and Influence People), and realized that in a complex and inter-related world, the skills of human relationship are fundamental to the achievement of even traditional forms of success, such as wealth and power.
Over the next 30 years, I intensively explored what I call the "marketplace of love". I read every book, enrolled in every form of therapy, every type of community-based healing group, every Large Group Awareness Training (LGAT) and every New Religious Movement (NRM) which I could find and which my financial resources allowed (and in those days my resources were considerable). I discovered that the search for love and community is fraught with perils: delusions, projections, and ego inflation. In many of the groups that I explored I had a real sense of "coming home", that I had found what I was seeking, and in too many cases, later discovered serious ethical problems ranging from abuses of power, inappropriate sexual behavior, or excessive profit motive.
I did find two movements which particularly moved me and which were in integrity. One was Buddhism, which is actually more of a practical psychology than a religion; and the other was Non-Violent Communication (NVC), in which I discovered a number of very valuable distinctions relating to human relationships as well as a practice community. In 2007 I got married and founded an intentional community with my wife, which we designed as an "experimental community of love in action", and ran quite successfully for 3 years. Those were the happiest years of my life up to that point. And then, our community was shut-down by the municipality over zoning issues, my marriage fell apart, and I was back to square one. Kahlil Gibran was right: the ways of love are hard and steep, indeed.
Finally, in 2014 I discovered Circling, and in 2016 moved to Boulder, Colorado, and joined the Integral Center there. Very rapidly I found myself inside an active, loving and engaged community, forming friendships which I believe will last my entire life, and having powerful insights and experiences daily. I felt that this was the developmental community that I had been seeking my whole life, another instance of an experimental community of love in action. What made the offer even more compelling was that the groups were very low-cost, thereby holding the promise of what I call "the democratization of transformation", another goal of mine; and finally, the distributed organizational structure reduced the danger of the kinds of abuses which plague these types of movements, as well as creating more diversity.
I could hardly believe my good luck. Feeling compelled to write about it, I did so, while imagining that the book would be read and that it would have an impact. There are two other books on Circling, by Bryan Bayer and Sara Ness. I still wanted to bring in my voice, insights gathered over 30 years of research in building community, emotional communication and the psychology of love. You will also find here an up-to-date history of the Authentic Relating movement and an extensive Resources section.
I offer this in gratitude to the pioneers of the Authentic Relating movement: Guy Sengstock, Decker Cunov, Bryan Bayer, Alexis Shepperd, Robert McNaughton, Sean Wilkinson, John Thompson, Sara Ness, Jordan Allen, Shana James, Amy Silverman, and others. You are my heroes!
As an "open source", community-generated practice, Circling will continue to evolve and deepen, even to a degree far beyond what I am attempting to contextualize here.
PREFACE TO THE 2nd EDITION
Throw away your begging bowls at God's door
For I have heard the Beloved
Prefers sweet threatening shouts,
Something on the order of:
Hey, Beloved,
My heart is a raging volcano of love for you!
You better start kissing me – Or else!
– Hafiz
The first edition of the Circling Guide was published in the fall of 2017. Since then it has become the most reviewed and downloaded book on Circling, and dozens of people have written to me to share how useful it was to them in understanding the practice, developing their skills or even getting into leadership.
Furthermore, it turns out that everything that I had intuited about the potential of Circling when I wrote the 1st Edition, including the power to heal relationships and create transformational businesses – intuitions which could have occurred as wishful thinking or inflated – were actually understated. The truth is actually way more interesting and exciting than I had realized at first. This was dramatically illustrated for me in the second group that I started, a virtual men's group that has been going on now for 3+ years, in a format that we are now calling Circling Masterminds and which is also covered in this 2nd Edition. I have learned a lot in the last few years.
And finally, the community is changing, growing and maturing. Sadly, the Boulder Integral Center shut-down in early 2019. In response, however, Sara Ness's Authentic Revolution has become a worldwide hub; Circling Europe and Circle Anywhere are reaching large audiences; Guy Sengstock's Circling Institute is growing as well; and at least two new schools have opened: Jason Digges and Ryel Kestano's ART International and Peter Benjamin's The Connection Institute.
As such, it was time for an update. I hope you enjoy it.
Continue reading: History of Circling