In this issue of the Circling Guide newsletter:
Circling Masterminds — groups forming now
Being Social (hot-seat game) next Friday, Dec. 18
ART International offers 50% discounts to Level 1 and Level 2 training through the end of December
New books by Jason Digges and Sara Ness!
---
Circling Masterminds groups forming now (donation-based)
After 4 years of organizing and leading private circles for my friends and community, I am expanding the offer to the community at large.
What is the idea of Circling Masterminds?
To make deep changes in our lives, and to grow in wisdom and discernment as relational leaders, we need ongoing support from people who know us. If you are reading this, you probably know that Authentic Relating practices are extremely powerful for creating connection, and from there transformation. The problem, is that authenticity is scary and A/R can be triggering. Ironically, it is by moving through the inevitable triggers and metabolizing those lessons, that real growth is achieved.
Circling Masterminds happens in small, closed groups of people who are committed to their own development, and to the development of the group as a whole. It is also (usually) very fun.
Groups are by-donation with a suggested contribution of $15 per session ($60/mth). However, it's more important to me that you show up, than that you show up with cash.
To find out more review Circling Masterminds – Logistics. If you like what you read, book a 20-30 minute get-acquainted call with me.
---
Being Social (hot-seat game) next Friday, Dec. 18, 6:30pm EST
A "Being Social" is a group format my ex-wife Rebekah created based on our shared experience running an intentional community. It's basically a hot-seat game with a few delightful twists that are best experienced directly :-). Being Socials welcome questions around love and sex, and encourage participants to get to know each other personally.
Register here. I will be co-leading this particular session. Cost is $10.
---
ART International offers 50% discounts to Level 1 and 2 courses, through December 31
ART International is offering 50% discount coupons to their fabulous The ART of Being Human, Level 1 and Level 2, 6-week courses. Coupon details here.
ART International has delivered the Level 1 Course to spiritual seekers in Bali, jail inmates in Colorado, executives in New York City, and men and women from all across the social, cultural, economic, and political spectrum, of all ages and nationalities, on four continents. Universally, participants report profound and lasting transformation in all aspects of their lives. The course speaks in the shared language of human connection, and is designed specifically to include everyone in the practice of Authentic Relating, no matter what path they've traveled in life.
I may very well be attending a Level 1 myself! Once again, coupon details here
---
New books by Jason Digges and Sara Ness!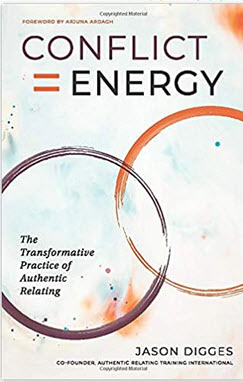 Jason Digges from ART International just published new book, Conflict = Energy: The Transformative Practice of Authentic Relating. The book gives a compelling introduction to the Authentic Relating movement (the "why" of it), a library of A/R games and practices, and a set of real-life situations in which these practices will prove valuable. As such, the book will be useful to both beginner and experienced practitioners.
---
And Sara Ness has yet another publication (how does she do it?), called Relating Languages, which is a kind of typology of conversational styles. Have you ever been at a party in which you have a conversation that feels totally flat to you one minute, and another conversation the next minute the feels so alive? This book might help you understand why, and what you can do about it. It is available, along with a bunch of other valuable books, at the Authentic Relating Manuals page — and all by donation!