I am thrilled to let you all know of a new training and community from Boston-based Peter Benjamin (and team), The Connection Institute.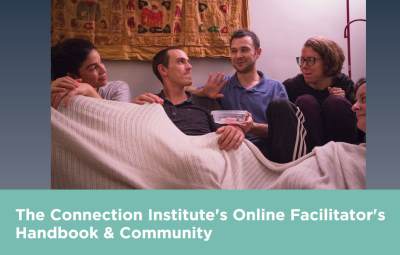 This is a new, year-long program focused specifically on training Circling leaders (i.e. it's professional education), and the price of $20/mth (no commitment) is hard to resist. There are currently 3-5 events per week, covering both base-training for new leaders, AND alternative/experimental Circling modalities (i.e. "Coyote circling").
Important: This is a beta program and normally enrollment closes today, Monday Aug. 19.  Peter has agreed to extend the registration deadline until Friday, since I asked him. It feels like too good an opportunity not to share with you all — plus I (of course) love company!  Maybe I will see you there?
In other news…
I am settling in quite nicely here in Asheville, NC, preparing a number of new ventures that will launch this fall. Most exciting is an online dating course series called Authentic Singles (I will let you know of upcoming Authentic Dating free introductions through this list, but if you are already super-interested, please subscribe from there). I am also doing a 2nd Edition of the Circling guide, with updates specifically focused on another Circling modality which we are creating here called Circling Masterminds.
So, more news soon…
Enjoy this post? Then be audacious and share or like!